Cardiff City promotion parade: Thousands celebrate success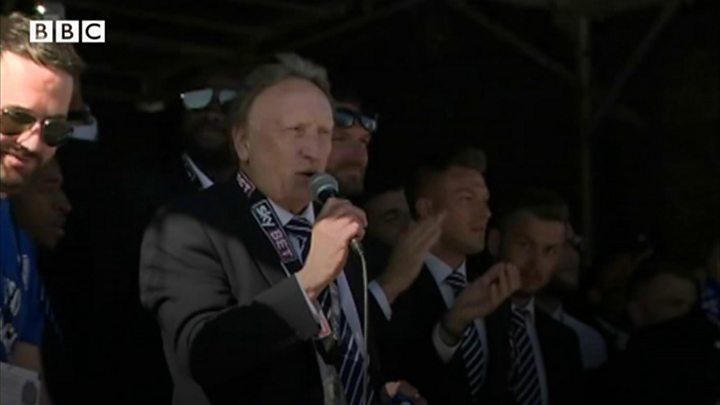 Thousands of fans have been celebrating Cardiff's City's promotion to the Premier League.
An open-top bus parade started at the Cardiff City Stadium and ended at Cardiff Castle on Sunday afternoon.
Fans lined the route along Leckwith Road and Cowbridge Road East with others following the bus before the team addressed the crowds.
The Bluebirds secured a return to the top flight of English football with a 0-0 draw against Reading last Sunday.
Hundreds of fans had been waiting at the castle, enjoying the sunshine in a party atmosphere.
They waved flags as manager Neil Warnock took the promotion trophy into the castle grounds, followed by his players.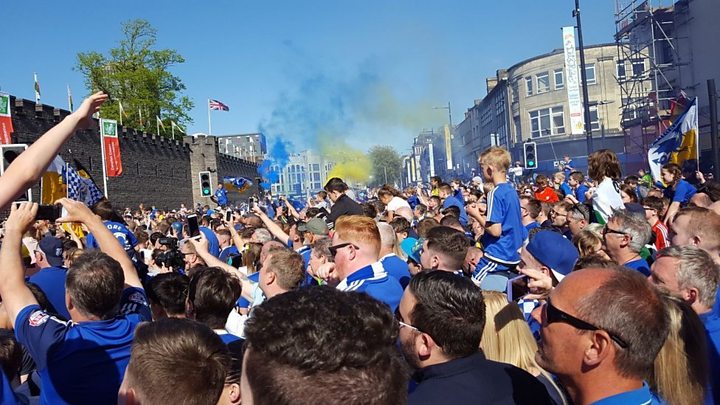 Warnock thanked the fans for turning out in such large numbers, joking: "I had a word with him upstairs to make sure the weather was good for you."
He added: "Not one of you lot [the crowd] thought we'd get promotion at the start of this season, no, not one of you thought - don't you lie.
"And there'll not be many that think we'll survive next year either, so keep it to yourselves. Just keep it to yourselves."
He said after having some time off, some new players would be brought into the squad in preparation for the new season.
"When you look at a day like today you realise just what a big club we are - especially in Wales," he added.
Many families have been celebrating - including Martin Gowan, 63, who has supported the club since he was 15 and said he had seen "ups and downs", but was "shocked" to see them go up this time.
He was in the city with son John and grandson Logan Baker.
Another fan, Ryan, said: "The sun's out - all the fans, the true fans are all here, from over the years.
"It's great to see the fans walking alongside the buses from the stadium, coming into town now, it's packed, it's great to see."
Jac, from Bridgend, said: "It's hard to believe they've gone up, I didn't think it would happen."
Supporters had been asked to use public transport because of a car free day in the city with road closures starting at 05:00 as Cardiff council monitors improvements to air quality.
Cardiff Bus has also warned passengers that some buses will follow different routes around the city centre and may start from different departure points.