Cardiff Bay's Mermaid Quay set for redevelopment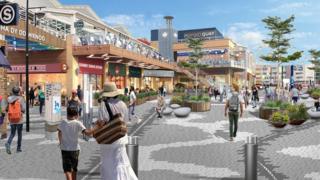 Cardiff's Mermaid Quay is to be refurbished as part of a wider plan to redevelop Cardiff Bay.
The waterfront area features bars, shops and restaurants and will have new paving, lighting, landscaping and street furniture, with work due to starting later in May.
It will also have a new entrance and a new public space at its centre, which will host events.
More than 100 million people have visited it since it opened in 1999.
Mermaid Quay's owners, Schroder UK Real Estate Fund, say the work would create a contemporary dockside feel "in-keeping with its stunning waterfront location".
It said the new Tacoma Square would provide a location for events and entertainment, as well as an area where people can sit and enjoy the waterfront.
New lighting will also be fitted to the underside of the bridge that spans Bute Street to Mermaid Quay's clock tower, overlooking the new square.
Centre manager Justin Patel said: "The centre has always been the 'jewel in the crown' in the bay, but if we are to continue to be attractive to our customers, it's important that we continue to invest in the centre.
"The planned transformation will refresh the customer experience and maximise our stunning location. I can't wait."