Iraqi businessman's British Passport wrangle settled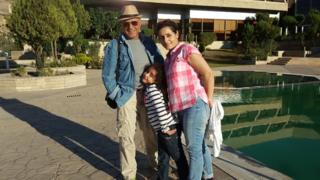 When businessman Sarbast Hussain paid a premium for a "fast-track" service to update his British passport, he was not expecting it to take eight months and leave his family's future uncertain.
Born in Iraq, he was naturalised as a British citizen in 1998 after seeking asylum from Saddam Hussein's regime.
He eventually returned and settled in Iraqi Kurdistan where he became known as the "British guy" due to his years away.
But issues over his Iraqi and British passports came to light last August and led to him settling in Cardiff despite initially expecting the problems to be resolved in "a few weeks".
The Home Office said it had been "looking into this case as a matter of urgency".
But Cardiff North MP Anna McMorrin said the delays had affected his businesses and put pressure on his family life, as his wife and his two youngest children eventually joined him last November.
Mr Hussain explained how, when he was given his British passport, he gave his true date of birth as 23 June 1958.
However, when he eventually received his first Iraqi passport after his return following the collapse of the regime, officials used the date on his birth certificate which was recorded three weeks later by his father.
He said his late father picked a date to reflect the period known as the July Revolution which saw the monarchy overthrown in a military coup which "liberated the Iraqi people".
He said the discrepancy over the dates on both passports meant the UK Passport Office referred his case to UK Visas and Immigration, which is responsible for deciding about who has the right to visit or stay in the country.
This, he feared, left his citizenship in doubt because he described himself as a "proud British citizen" who had never "forgotten the favour this country gave to me" despite returning to live in Kurdistan permanently.
Mr Hussain said the passport hold-up cost him his cattle farm and business as a building contractor.
He does have other business interests and a rental property in London after investing savings earned as a college tutor and as an interpreter for the Home Office and police before he left.
His wife, Paiman, has lost her job as an architect since joining her husband in Britain with her permission to stay due to end in the next few weeks and son Dylan, 17, has missed a lot of his GCSE year at an English language school in Kurdistan.
His daughter Hanasa, seven, has been able to continue her school life as the family settled in Pontprennau, Cardiff, while awaiting a decision.
Mr Hussain said it was not until he sought the help of his local MP that his despair started to turn to hope.
She raised the case in Parliament on Wednesday. On Thursday, he said he took a call from the Passport Office to say his British passport was due to be delivered by post.
"My wife can't believe it," he said.
Mr Hussain described his problem as if he had "fallen" into a bureaucratic hole and, whilst the UK had made it a "hostile environment" for people trying to stay or visit illegally, it had "backfired" in his case.
He never envisaged how his life would change when he arrived in Hong Kong last August while en route to a conference about solar energy as he had hoped to invest in the technology in Kurdistan.
He said he was refused a visa because his British passport did not contain enough blank pages for an official stamp so he booked a flight to London to sort it out and take an impromptu break.
Even when the problem was not resolved after a few weeks, he used the time to go sight-seeing, visiting places such as Leeds and Cardiff.
But having no passport did have its problems. He could not book into hotels without it so, eventually, found his own place and has had to pay the extra living costs from savings.
"Then I felt the impact of what was happening," he said, adding that he was grateful to his MP for her support.
"I just want to enjoy this news. We have been counting the days for eight months," he said.
Ms McMorrin said: "I worry for the many British citizens being treated like this by the Home Office, who are too afraid to come forward or don't have someone to speak up for them."