Abergavenny station power cable 'not checked'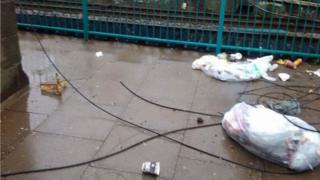 Three people were injured when an unchecked overhead railway station power cable was yanked loose by an arriving train, a report has found.
A train at Abergavenny station in Monmouthshire dragged the cable from a footbridge, causing it to break free, at about 18:00 on 28 July 2017.
A Rail Accident Investigation Branch (RAIB) report said the power line had not been periodically inspected.
Network Rail said it had "thoroughly reviewed" its safety systems.
The people hit by the cable, which powered the station's signal box, were on the stairs of the station's footbridge and suffered minor injuries.
The RAIB found nylon cable ties used to secure the power line had broken and the issue had not been reported during routine safety checks.
It recommended Network Rail replace the cable tray that housed the power lines, and identify cables at stations that could droop over railway lines and ensure inspections were carried out and documented.
A Network Rail spokeswoman said: "We have worked closely with the RAIB on this investigation and welcome the findings.
"We will now carefully review the recommendations made in the report to see if any further action is necessary."