Woman suspended from golf club amid gender equality row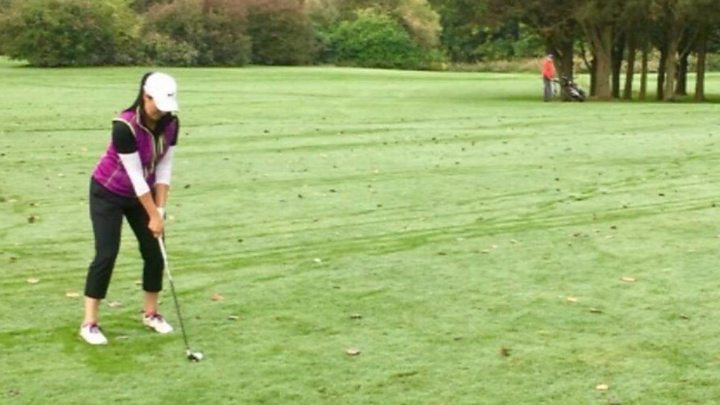 A golfer who claims her club has discriminated against women says she has been suspended after speaking out in the media about the issue.
Lowri Roberts claims Cottrell Park Golf Resort suspended her after speaking out about men being given prime tee times.
A motion at an extraordinary general meeting to amend Saturday tee rules was rejected by club members on 1 May.
The club said it was not discriminating against women but said disciplinary action against a member had started.
Ms Roberts, 37, joined the club in St Nicholas, Vale of Glamorgan, in 2014 so she could play alongside her husband.
However, she soon realised men and women competed separately on Saturdays.
Ms Roberts, who has a handicap of 18, said: "It angered me - I thought 'surely this can't be allowed in this day and age'."
Speaking after the vote, Wales Golf said it was committed to equality in the sport.
Ms Roberts said she was asked to "retract some comments I made in the press - I refused to, so I was notified last evening that they are starting the full disciplinary and during that process I am totally suspended.
"I have no rights at all to play on the course of which I'm a member."
Ms Roberts added she was considering her legal options under the Equality Act.
The club said there was equal gender access rights to facilities, including its two 18-hole courses.
When an event or competition is held on one course - the other course may be used by members, guests and visitors of any gender.
It also added that a Cottrell Park Members Association bylaw allowed women to play golf within the men's section competition on Saturdays.
A statement said due to alleged "disingenuous public statements", a member was currently subject to its formal disciplinary procedure.