Tata Steel: Cogent plant in Newport up for sale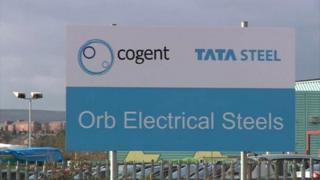 Tata Steel has put its Cogent electrical steel plant in Newport, which employs 350 people, up for sale.
Tata said the sale will allow them to focus on making products for the automotive, construction, engineering and packaging industries.
Liberty Steel, which has a plant in Newport, has told BBC Wales it could be interested in Cogent and the other sites put up for sale by Tata.
A steelworkers union says it is "yet to be persuaded" of the case for a sale.
While it is believed there have been no discussions between Tata and Liberty over the current sale, Liberty has bought around 10 UK steelworks from Tata in the last two years.
Cogent is one of five sections of Tata Steel Europe which are being put on the market - with sites in the Midlands, Germany, Sweden and Turkey affected. In total these five businesses employ 1,100 people.
Electrical steel is used in motors and transformers to allow electricity to be conducted primarily in one direction rather than in both.
Attractive
It is believed the companies, including Cogent, could be attractive to buyers because of the high-end products they manufacture.
However, it creates more uncertainty for Tata's workforce at Cogent following a previous sales process of its entire UK business that was eventually abandoned.
Tata is now in talks with the German company Thyssenkrupp over a merger of their European steel operations.
The current sale is not thought to be linked to those merger talks.
There will be no impact on Tata's other plants in Wales including Port Talbot, Shotton, Trostre and its other facility in Newport.
Hans Fischer, CEO of Tata Steel's European operations, said other former Tata Steel businesses have "found the focus to secure a more sustainable future" under new ownership.
He added: "The customer bases for the businesses being sold are distinct from the rest of Tata Steel Europe. We want to find the best owner for each of these business units who can focus on their needs to help them realise their full potential."
"These potential sales would enable Tata Steel Europe to focus investment and management resource on its core strip products business and strategic markets."
'Worrying'
But the Community union described the news as "worrying" and called for "full consultation" before any sale agreements were signed.
Its general secretary Roy Rickhuss, who is also chair of the National Trade Union steel co-ordinating committee, said: "Clearly this will bring yet another period of uncertainty to hundreds of steelworkers across the UK.
"We are calling on Tata to demonstrate that it is a responsible seller in practical terms by allowing time for the unions and our experts to look at the rationale behind today's announcement."
"During our discussions with Tata about the merger with Thyssenkrupp, we secured a commitment that there would be no asset closures and this principle must be upheld throughout this process and any sale."
Newport East MP Jessica Morden is "disappointed" that Tata is selling the Orb works and said it is a "worrying time for the workers and their families".
"Having spoken to managers at Orb they have told me that they have been seeing really good business results recently and that this a business with a positive future that will attract investors," she said.