Cardiff rough sleepers are making 'lifestyle choices'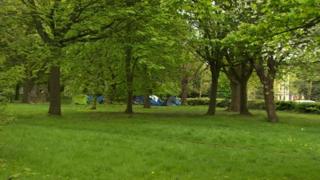 People living in tents in Cardiff city centre are making "a lifestyle choice" and have rejected offers of support, a leading councillor said.
Six people have been living in the camp near the civic centre in Cathays for five weeks.
Council cabinet member Lynda Thorne said officials approached them with daily offers of help.
Neighbouring Cardiff University officials said the college is "deeply concerned" for the campers' welfare.
Seven tents and a wicker dome have been put up and one of the people staying there, Fadhi Ghezllal, said they set-up camp after being moved from another area of the city centre by police.
Cardiff council said it has offered help, with a spokesman adding: "Unfortunately, some of those who sleep rough choose not to access accommodation, so outreach workers continue to engage with them daily."
Mrs Thorne, who is responsible for housing in the cabinet leadership, said the camp was "absolutely" a lifestyle choice by the individuals.
She added: "There's an awful lot going on, not only by council staff, but also with our partner organisations.
"We keep on trying every day, every evening, we talk to them and try to persuade them.
"It may not happen the first time, but the one thing i would say about our outreach workers is that they never give up on anybody."
A Cardiff University official added: "The land, whilst next to Cardiff University's main building, is not owned by the University.
"However, we are deeply concerned for the welfare of the increasing number of people sleeping rough in tents."