First Minister Carwyn Jones says he would not cycle in Cardiff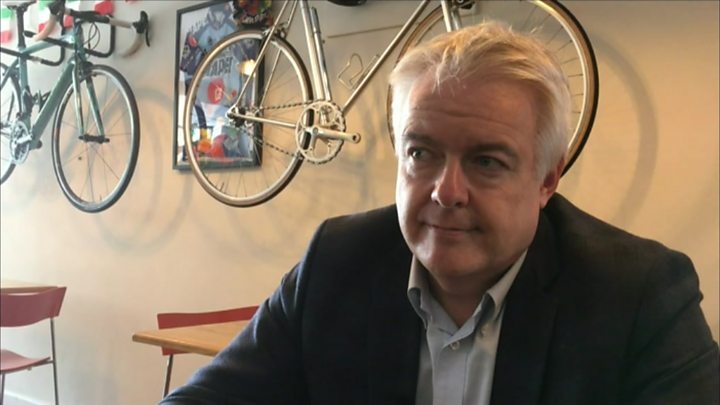 First Minister Carwyn Jones has said he would not cycle in Cardiff.
Speaking at an event promoting cycling, Mr Jones said he would have done it when he was a teenager, but not now.
"I would, if I could do it without traffic next to me, without a bus next to me or without a car next to me," he said.
A total of £60m is to be spent over three years by Welsh ministers on cycling infrastructure, including new routes.
AMs passed a law in 2013 saying councils should provide cycling routes, but there has been criticism over its implementation.
There have also been warnings that a Welsh Government proposal to allow lorries to use some bus lanes - which are also used by cyclists - could endanger lives.
Mr Jones said there was a need to encourage reluctant cyclists - people who are less confident on a bike.
The AM for Bridgend was asked if he would cycle in the capital: "No, no, I wouldn't. Personally, no. When I was 18 I would've done, but when you're a teenager you think you can do anything."
In recent years, Cardiff council has announced schemes to encourage cycling in the capital, including a bike hire service.
Huw Thomas, leader of Cardiff council, tweeted: "If that is genuinely Carwyn's view, then I would expect the distribution of the new cash to reflect it!"
Prior to the publication of Mr Jones' comments he welcomed the new funding and renewed his commitment to investing in cycling in the city: "We have to invest in our cycling infrastructure.
"What this cash does is enable us to construct new cycle routes that are in effect off-road, that won't suffer the same kind of erosion effects through heavy transport" he added.
Former local government minister Leighton Andrews said Mr Jones' comments were "unfortunate in that it was more likely to put people off cycling".
"What does it say about how we prioritise cars over safe routes and how we design our cities if our own first minister doesn't feel safe to cycle in his own capital city?" asked Plaid Cymru AM Simon Thomas in the Senedd earlier.
Sustrans Cymru cycling charity director, Steve Brooks, welcomed the investment, saying that safety was the number one issue for cyclists.
He thinks segregated spaces would help: "That means more cycle paths, separate from traffic in towns and that would go a massive way to encourage people to ditch the car and to cycle those short journeys."
Emma Palmer from Abergavenny cycles part of her commute to work.
She said: "It's full of wildlife - I see ducks and swans and cormorants and buzzards - it's just wonderful."