WWI soldier Vivian Llewellyn's Cathays memorial restored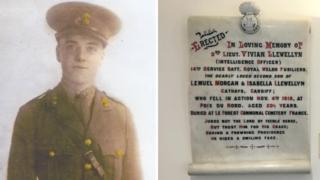 A 99-year-old memorial to a World War One soldier almost lost to time has been restored after a chance discovery.
Cardiff docks worker Vivian Llewellyn died in France in 1918 while serving as an officer.
Great nephew Jeremy Sparkes searched archives for records of the memorial after hearing a family story about it.
He found it hidden among items in a store at Highfields Church, Cathays, after finding records tying the tablet to the building's owners in 1919.
"I thought it was long gone," he said. "I hadn't gone looking for it."
On Saturday afternoon, 25 relatives - three generations of nieces and nephews of 2nd Lt Llewellyn - gathered, some meeting for the first time, at the church for a rededication ceremony.
Family members from around the world raised £2,000 to pay for the memorial's restoration, with support from the Associated British Ports.
The tablet was originally dedicated on 4 May 1919 at the former Crwys Hall Presbyterian Church, but in the years that followed the church fell empty and was gutted.
It was renovated and later reopened by Highfields Church community about 20 years ago.
A search of records held by London's Imperial War Museum showed a war memorial had been dedicated to Mr Sparkes' uncle and that led him to visit the former Crwys Hall almost 100 years later.
Although it had since become Highfields Church, parishioners gave him a tour of the new-look building.
And it was while walking through a "dark passage full of old furniture" he noticed a heavy wooden board.
Behind it, he found the marble memorial, complete with surface cracks and faded lettering.
"I still can't believe how fortunate I have been," said Mr Sparkes, who thanked the church community for allowing the memorial to go on display due to its connection to the building.
The final piece in the puzzle was found in a copy of the Western Mail newspaper printed on 5 May 1919.
Mr Sparkes had wondered why 2nd Lt Llewellyn had such an ornate and costly memorial as he knew his ancestors were not wealthy.
'Uniting power'
The newspaper report on that dedication ceremony showed he was held in high regard by his employers, the Cory coal and shipping family, who paid for the 60kg stone.
It said that had he survived the war, 2nd Lt Llewellyn was expected to have "attained a very high position in the business world at Cardiff docks".
The report also explained that he and three others died when they were hit by a shell at Poix du Nord, France.
2nd Lt Llewellyn, who spoke other languages, had served as an intelligence officer with the 14th Battalion, Royal Welsh Fusiliers after completing his officer training with the Artists Rifles, a volunteer regiment which took recruits from public schools and universities, although he had been a coal worker at the docks.
Saturday's memorial rededication included local dignitaries and representatives from the Western Front Association, Royal British Legion, Regimental Association of The Royal Welsh and 2nd Lt Llewellyn's old school, Gladstone Primary.
Mr Sparkes said: "There are people coming who have never met each other before through the uniting power of this memorial."