Cardiff teen up and running after German spine surgery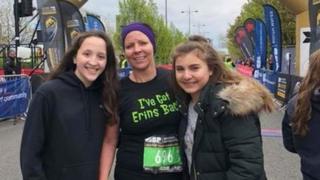 The mother of a Cardiff gymnast who travelled to Germany for spinal surgery has said it should be offered free on the NHS.
Erin Morgan-Ring has scoliosis, which means her spine twists and curves to the side.
After her family raised £42,000 for a private operation, the 14-year-old is now recovering at home.
Her mother said she had to "beg, borrow and steal" to fund it and NICE said it was yet to make a decision on its use.
The most common surgery available in the UK, known as full fusion surgery, sees metal screws attached to the vertebrae which are then connected to rods to try to correct the curve.
But the family of Whitchurch High student and keen gymnast Erin said she would be forced to give up competitive sport if she opted for the NHS procedure, as experts concede it can leave patients with a more limited range of movement.
She underwent an alternative procedure, called Vertebral Body Tethering (VBT), in Germany last month, and is the third Welsh child to travel abroad for the surgery in a year.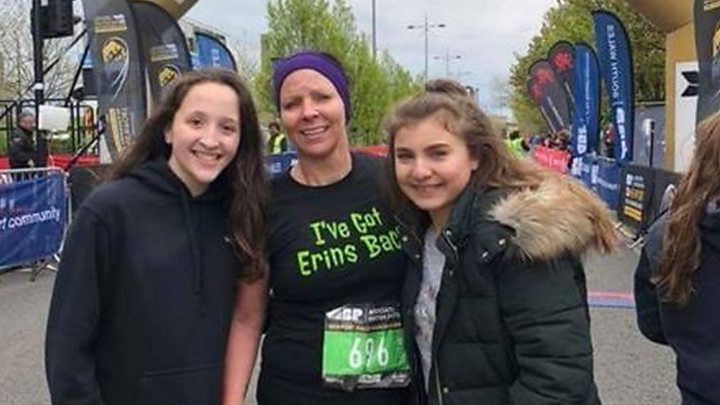 She is now recovering at home in the Heath, Cardiff, and even managed to run the last 50 metres of the Newport Marathon on Sunday, to support a friend across the finish line.
Her mother Ceri Morgan said: "We've had to beg, steal and borrow to find the money for Erin to have this operation and we're not the only family in Wales who have had to do this."
You might be interested in these stories too:
Britain's Got Talent girl dancing again
Olympic champion 'recovering well'
Pioneering fish skin surgery for acid attack pony
Wales rugby player Sam Warburton and footballer Gareth Bale, were among those to donate items for auction to help raise money.
Erin's mum first noticed something was not quite right with Erin's spine during a holiday in 2016.
"She was in a bikini I just noticed that she wasn't standing straight, when we came back we went straight to the doctor and were referred," she said.
Doctors diagnosed scoliosis after seeing X-rays of Erin's spine.
Full fusion surgery was offered by the NHS, but Ms Morgan heard about VBT which it is hoped will allow Erin to return to gymnastics and running within three months.
She said: "When we got to the hospital in Germany I think the reality of what we were doing really hit home.
"We were scared. We had both become so caught up in the fundraising that the operation was almost an afterthought until we got there and she began going through the pre operation checks.
"It was hard seeing her in tears before the operation, but the day after she was standing and walking the day after that. It was the right thing to do."
The National Institute for Health and Clinical Excellence (NICE), which decides if new procedures can be used in the NHS, is yet to make a decision on VBT.
A spokesman said: "We have not produced any recommendations on VBT for scoliosis.
"Although the procedure has been referred to us to look at, we're currently awaiting the publication of further evidence before we can proceed with our assessment."