The Royal Hotel: Cardiff's oldest with mysterious past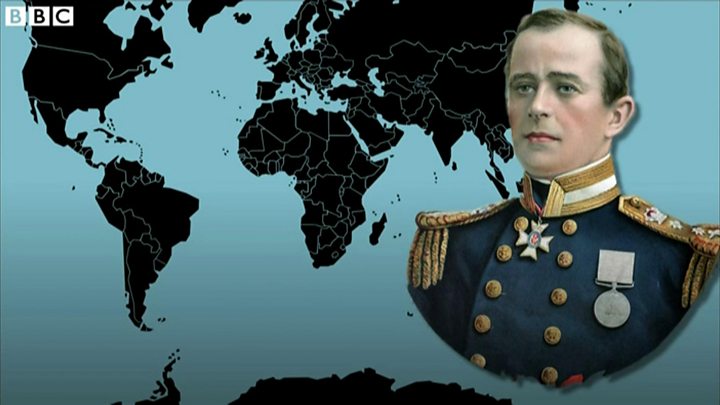 It is the hotel from which Captain Scott set off for his ill-fated trip to the Antarctic in 1910 - enjoying a 13-course meal before departing.
Great All Blacks sides also stayed there, while there were stories of romances and the sad tale of a baby left on the steps, whose mother was never found.
Cardiff's oldest hotel - The Royal - has a colourful past but much of it has been lost following fires, periods left derelict and a multitude of owners.
What was once St Mary Street's premier venue now sits inconspicuously above two night spots that have taken over its ground floor.
"People walk by and don't know we're here. They come for interviews and don't know we exist," said the hotel's Scott Frankton.
Along with manager Jon Swingler, he has been using newspaper cuttings and photographs to try and piece together its past since the small chain they work for took it on in 2009.
Much of the history and exact dates for fires, rebuilds and ownership periods of the various breweries that ran it are unclear.
It was one of the first major buildings on St Mary Street after the River Taff was diverted away from the city centre, with old barge boats filled with rubble used for its foundations.
When it opened in 1866, it consisted of four floors, had houses either side and was accessed by horse-drawn carriages on a dirt track outside.
It had its own coach stable on Westgate Street that later became a car park, with signage still visible above the door of the micro brewery that is now based there.
By 1894, the neighbouring houses had gone and St Mary Street was developing into a busy, commercial street, with an extra two floors added to The Royal.
The hotel's prominent standing was illustrated in 1910 when Captain Robert Scott chose it for his farewell banquet.
However, even this history was lost for a time until a menu was found during one facelift and Mr Swingler said somebody proclaimed surprised "that was here?"
The event is now marked annually, with a historical society re-enacting the meal every year.
"It was very grand, with 13 courses," said Mr Frankton.
"I always joke that maybe he should have taken the food with him, maybe he would have lasted longer."
There have been many stories - such as a volunteer firefighter who rescued a worker from a blaze 100 years ago, fell in love and married her.
Then there is the tale of Pat Fitzgerald - who one of the hotel's bars is named after.
As a baby, she was left on the steps in 1939 and given the birthday of 15 December - the day she was taken to hospital from the venue.
Despite a national campaign spearheaded by the hotel years later, she was unable to find details of who her mother was.
"Little pieces of the past keep coming to light, like someone brought in a photograph of an 'All Blacks room' with memorabilia in it," added Mr Swingler.
"It was kept here for them and suggests they stayed here on tours. The room was here until some time in the 1980s."
Despite the image, he has not been able to track down the Barbarians jersey, photographs and plaques that once hung in the room.
There was, though, a phone call from nuns at the old St Joseph's convent on North Road which reconnected the hotel with another important aspect of its past.
Captain Robert Falcon Scott had set off on foot from his ship the Terra Nova to be the first man to reach the South Pole, but he and four colleagues died after being beaten there.
The vessel was used for various purposes afterwards until it sunk off Greenland in 1943.
Nuns said panelling from the boat had been brought back to Wales and used on a number of buildings, including their convent.
About 34ft (10m) of it has now been placed in The Royal Hotel's Grade II-listed room dedicated to the adventurer.
How the hotel has changed over the years is illustrated by the fact this room was originally where pub O'Neill's music room now is.
But it was moved in its entirety to the level above when the pub chain took on the bottom floors following its most recent major facelift.
The hotel's grand staircase where newly-weds posed for photographs also became part of what is now the Missoula bar next door.
This area once comprised of a number of restaurants and gathering points owned by The Royal, including the press bar of the Western Mail and Echo.
Of all the planned facelifts, the most ambitious was announced in 1963 to add an extra ten floors and create a banqueting room for 600 people.
These never came off and its decrease in size is perhaps illustrated by newspaper reports of a string of blazes.
One describes "only pigeons enjoying the plush surroundings" after the roof came off in one and another about how "hundreds flee" a fire in 1982.
It spent periods derelict in the 1970s and 1980s, before Cardiff council made a compulsory purchase in the 1990s after it failed to find the owner.
A £5m facelift followed and in the 1990s, it was brought right up to date with Gameboy consoles put in each room.
However, this drew noise complaints from guests about people playing them late at night.
The ground floor bars were split from it and The Royal opened in its present guise in 2005, passing through a number of other hands since then.
Mr Swingler added: "All sorts of bits keep coming out. Every time we scratch into things, something else emerges."