Barry docks incinerator to be running by end of year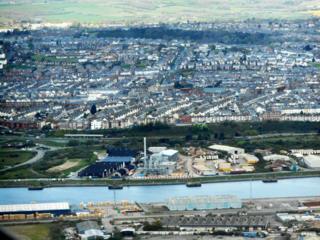 A Vale of Glamorgan incinerator will be fully up and running by the end of the year, its operators have confirmed.
The Biomass UK No 2 power plant in Barry has faced vocal opposition from residents and local politicians concerned about potential pollution.
The privately-run venture, which is backed by Aviva Investors, was granted an operating permit by Natural Resources Wales in February.
But campaigners have insisted the plant needs environmental impact assessments.
The Docks Incinerator Action Group (DIAG) said planning permission should not have been granted without the assessments.
"This is a point that DIAG has been arguing for some time," Dennis Clarke told supporters on social media on Monday.
He said if the Welsh Government accepted its case, then ministers should do "the right thing".
Environment minister Hannah Blythyn told assembly members in March that the Welsh Government was "minded to direct that an environmental impact assessment is required", but a final decision has not yet been taken.
The power plant will burn waste wood at high temperatures, in a process called gasification, to generate electricity.
The Vale of Glamorgan council, which granted the original planning permission, has previously said it has not seen any evidence to suggest any of the plant's emissions are a concern for public health.
However, following complaints of "black smoke" during operational tests, the council has agreed to install air quality monitors in the area around the plant site.
"The monitors will assess air quality 24 hours per day feeding back data wirelessly to our offices in 15 minute intervals. Air quality data will then be made available to members of the public," said a council spokeswoman.
'PR stunts'
Responding, an Aviva Investors official said: "All emissions pass through a pollutant control system to ensure they are within the limits required by the emission limit values specified in the Industrial Emissions Directive and are safe for release into the atmosphere."
Vincent Bailey, chairman of the council's Environment and Regeneration committee and a Conservative councillor, said Ms Blythyn had "grabbed the headlines" with comments about an environmental impact assessment "but we've heard nothing since".
"We need leadership from Welsh Government not PR stunts, and it's time for ministers in Cardiff Bay to listen to the concerns of local residents about the incinerator," he said.