New night marshal service for Cardiff after redundancies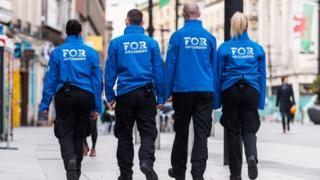 Ten new night marshals are to be employed in Cardiff to help cut disorder in the city centre.
The marshals will be employed by FOR Cardiff, a not-for-profit organisation funded by the Cardiff business community.
The news comes after Cardiff Council decided to close a taxi marshals service due to budget cuts in January.
Seven marshals, who worked in the city centre on Friday and Saturday nights until 04:00, were made redundant.
Adrian Field, executive director of FOR Cardiff, said there had been a "negative impact" on the city following the removal of the taxi marshals service so they had "stepped in to provide a wider night time safety service."
"The primary role of the night marshals is to provide a street presence in popular areas of the city centre and manage three taxi ranks, controlling queues and assisting vulnerable people," the organisation added.
They will also offer advice and guidance to people visiting the city, as well as be given conflict management training.
They will liaise with city centre venue owners, door staff, street pastors and the emergency services.
The new marshals will start work this week and will work on Fridays and Saturdays from 22:30 until 04:30.
They will also be deployed for major events including rugby internationals and large-scale concerts.