Mongol Rally: Barry friends race to Siberia in Fiat Panda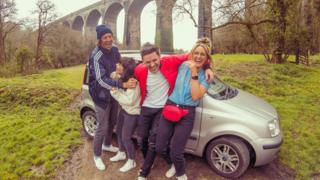 It is described as the "ultimate chaos machine". It starts in the Czech Republic and finishes in the Siberian town of Ulan-Ude.
There are few rules, but they include a car with an engine of up to 1 litre or a 125cc motorbike.
You are also expected to raise money. As much as you can, for charity.
Five hundred cars are taking part in the Mongol Rally this year, and as one couple from Barry, said: "Surely we can't all be that stupid?"
Aimee Bannister, 28, and Craig Holmes, 30, from the Vale of Glamorgan are experienced travellers and travel vloggers - they're familiar with its occasional challenges.
With their friends, Jessica Berg, 30, and William Webb, 30, they will make their way through 12 countries and across 10,000 miles in a Fiat Panda - a car costing around £500, as the rally rules specify.
The route takes them through the heart of Europe, sandy deserts and scenic mountain passes.
The organisers of the event said the race was about the unexpected: "It forces you to be lost, to not know what's around the next corner, to embrace the unknown."
The participants are given a start and end point and then encouraged to get lost, to use their wits.
Aimee and Craig are aware of the risks, though, knowing there was a fatality during the rally in 2010.
A personal journey
But it is the thrill of the adventure that motivates them: "We will experience the most remote terrain on planet earth.
"Breaking down will be a daily struggle, losing tyres and making friends with an abundance of local mechanics along the way just adds to the story!"
And the shortage of storage space in the car? That won't affect Aimee's approach to packing: "I'm planning on taking a few prom dresses with me. Why wouldn't you?"
In 2008, when Aimee had just turned 18, she was diagnosed with cancer, so 2018 marks her 'cancerversary' - 10 years of being clear of the disease.
"I think I've always been a free spirit, willing to do things outside of the box, but I definitely think that knowing how short life can be it definitely pushes us to do more things with our lives.
"It's a scary world out there but you've just got to take it with both hands."