Wales' tallest building is still to get off the ground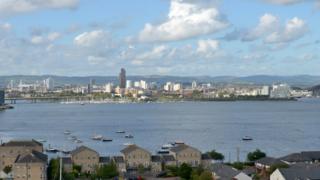 Wales' tallest building was due to open this summer - but work on it has not even started, with no details of when it will get under way.
The 42-storey and 132m (433ft) student tower on Customhouse Street was approved by Cardiff council in 2016.
It was set to eclipse current highest, Swansea's 107m-high (351ft) Meridian Tower on completion in summer 2018.
But developer Watkin Jones declined to answer questions on the project's future and said there was no update.
It was the tallest of a spate of buildings, mainly for students, that gained consent and promised to transform Cardiff's skyline.
The company, based in Bangor, Gwynedd, was given five years to start work from the granting of planning permission - meaning, despite the original timescale, it has until 2021 to begin.
Plans included a "sky lounge" for hire with views over the city, a shop or cafe on the ground-floor, plus rooms for 450 students.
Although it was passed by council, it has divided opinion.
Cathays councillor Ali Ahmed said it would be a good addition to the skyline and the city's version of Chicago skyscraper the Willis Tower.
But Riverside's Iona Gordon was strongly against it and, despite her hope it had been scrapped, said there were indications preparatory work could start soon.
"I still maintain this building will be a travesty, especially so close to the main railway line from London to Fishguard," she said.
"The hoardings have gone up and from the train I saw that there is some plant on the tiny site.
"But, as far as I can see, no action yet. As far as I am concerned the longer no action - the better."
Another councillor, Heath's Lyn Hudson said: "There was a lot of opposition and very detailed letters of objection. But despite that, we were assured it was all going ahead."
The tallest fully-completed buildings in the capital are currently the 80m (262ft) high Capital Tower and 78m (256ft) BT Tower.
While a Watkin Jones spokesman said there was nothing to report on the Customhouse Street development, he added: "The group's concentration has been centred on their new development in Bridge Street in Cardiff, which is a 24-storey tower block with 464 beds."
The topping out ceremony takes place next Wednesday and when it opens in August, it will be Cardiff's tallest in-use building at 85m (279ft).
It has been sold on by Watkin Jones and an application was made to allow non-students to live there in the first year by management company Fresh Student Living.
With term-time starting in September, the firm believes there would not be enough time to fully let it to students in 2018-19.
But as the city grows upwards, this is not set to stay its tallest structure for long.
A 25-floor student tower on Herbert Street - due to open in summer 2019 - will be a similar height.
However, an office and hotel scheme on John Street could eclipse them both with a number of towers planned - the highest at 99m (325ft).