Rhondda schoolgirls to get free sanitary products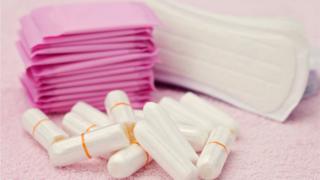 Free sanitary products will provided for all schoolgirls aged nine and over in Rhondda Cynon Taff after officials approved the scheme.
The county borough council backed a recommendation that dispensers and baskets are installed in school toilets.
It said towels and tampons are as "essential as toilet paper for the personal hygiene of female pupils".
The decision makes it mandatory for schools to provide the products.
A report to the council's cabinet says that the changes would help improve "privacy, dignity, wellbeing, attendance and educational effect".
The cost is estimated at £21,000 for primary schools and £73,305 for secondary schools, not including paying for the dispensers and baskets.
Plaid Cymru councillor Elyn Stephens said she was delighted the idea had been given the go-ahead.
She said: "As a point of equality, we should be as comfortable talking about providing sanitary products as we do toilet paper.
"To ensure that the recommendations are implemented in full they need to be properly budgeted for every year and not be at the mercy of underspend grants."
The Welsh Government has given £57,000 this financial year to set up a pilot and a further £17,500 is promised for a further two years.