Brynmawr Market Hall Cinema £100k demand 'would bankrupt it'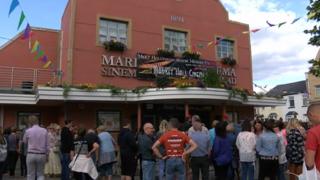 Volunteers have been told to pay more than £100,000 to take ownership of the cinema they run.
Brynmawr's Market Hall Cinema Trust members said they are being "held to ransom" and it would bankrupt them.
They took over its running in 2013 on a short-term lease because Blaenau Gwent council could no longer afford it.
On Wednesday councillors agreed the handover "subject to outstanding financial and legal conditions being agreed within 4 months".
In a statement, the local authority said it was "committed to open negotiations" over the price and was offering funding of £47,000 if the trust agreed to pay the £100,000.
It listed the "historic debts" for services including energy.
Also listed is the cost of an environmental clean of the library area after what it said was "unauthorised building work" by the trust.
A statement added: "The council also spent a significant sum to make the building safe including asbestos sampling, remedial electrical works, fire alarm and emergency lighting following the unauthorised works undertaken in the cinema and former library.
"The council feels it is not unreasonable to expect the trust to make a contribution to these costs and the Council is proposing these costs are split on a 50-50 basis."
However, the way the council handled asbestos concerns has been described as "incompetent" by the trust.
Julian Gardner from the trust said: "Only a proportion of this is historic debt - for over a year now we've asked for a breakdown of this debt.
"There's a stack of these bills, but they only have a number on them, they don't have any breakdown as to whether that is for the asbestos testing, the electrical maintenance - we have no idea what we're paying.
"No organisation would pay a bill unless it has a complete breakdown as to what that financial requirement is."
Trustees are meeting on Thursday to work out a way forward.