Cardiff council warm to incinerator heating scheme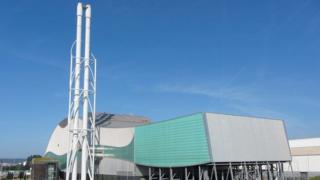 Plans to keep buildings in Cardiff warm using "waste heat" from an incinerator have moved a step closer after being backed by councillors.
Supporters say the £26.2m project could significantly reduce the capital's carbon emissions.
Buildings connecting to the Viridor incinerator, in Trident Industrial Park, would no longer need to use gas.
Cardiff council's cabinet has backed the proposals - but a full business case still needs to be made.
Cabinet member Michael Michael said: "[An] analysis that has been carried out shows the scheme has the opportunity to save 5,600 tonnes of carbon each year.
"However, these schemes are reliant on a number of factors to make them viable."
'Low-carbon heat'
Steam generated through the burning of non-recyclable waste at the Trident Park energy recovery facility in the south east of the city would be used to heat water that would then circulate around the network.
It would run from the plant through large parts of Cardiff Bay before travelling up to the city centre.
Public sector and commercial buildings could be connected, potentially saving 5% on their energy costs.
While there has been a big focus on decarbonising electricity supplies in recent years, much of the UK still relies on burning fossil fuels such as oil and gas for heating.
Several cities are now looking at the option of "low-carbon heat" networks, with both the Welsh and UK governments saying they want to see many more of them being developed.
Cardiff council's cabinet met earlier to approve a preliminary business plan, which would require £4m of council borrowing.
It is hoped the rest of the money would come from government grants and the private sector.
The network would be owned and run by an independent company, in which the council would be a major shareholder.
The Welsh Assembly has already said it would want to be one of the network's customers.
While the main Senedd building is supplied with heat from a biomass boiler, the administrative offices behind are still reliant on gas.
Matthew Jones, the assembly's sustainability manager, said they were "looking to get on board as early as possible to help provide the public sector support that this project really needs".
"Climate change is an important subject, and needs to be tackled with small energy-saving initiatives, as well as larger low-carbon infrastructure projects," he added.
"There is excess heat produced by the plant just down the road from us here, which could be put to better use lowering the carbon footprint of the capital city in which we are based."
'Ambition'
Viridor, which runs the Trident Park energy recovery facility, said it was pleased to work with Cardiff council on the project and help achieve the Welsh Government's environmental ambitions.
Cabinet secretary for energy, planning and rural affairs Lesley Griffiths said decarbonising heat was "a significant challenge in delivering a low carbon economy for Wales".
She said the Welsh Government had provided significant assistance to Cardiff council to develop the project to this stage and would continue to work in partnership "with the ambition of making the project a reality".