'Ecstasy pills for sale' in WhatsApp message to customers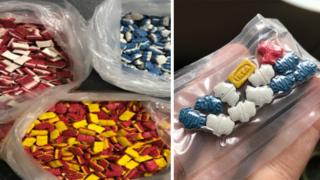 A dealer advertising "drugs for sale" on social media was arrested in a pioneering operation which took police 120 miles from Bridgend to Redditch, Worcestershire.
The kingpin was caught out after using WhatsApp to offer types of ecstasy to customers in south Wales.
In a first, a fingerprint identification taken from the picture message helped secure 11 convictions and bring the supply chain down.
What became a complex police operation started after locals became suspicious about a large number of visitors to one address.
At first, officers thought two men were dealing on a small scale - 25-year-old Joe Thomas from his home on Laing Street, Kenfig Hill and Aaron McKay, 22, from Pyle.
They monitored the house and after what they believed was a drop-off, raided it in August 2017.
Cocaine and a large quantity of a type of cannabis called 'gorilla glue' was recovered, as well as thousands of pounds and a "debt list" of people owing £6,000.
Initially, five men were arrested, including Michael Rouse, 31, of Wildmill, whose car had been monitored making regular trips to Redditch.
This provided the first link with the Worcestershire town, with WhatsApp and social media messages on McKay's phone found to have been sent from the area as well.
These advertised different drugs for sale and included details of purchases, which led police to the couple, Darren, 51 and Dominique Morris, 44, in Redditch.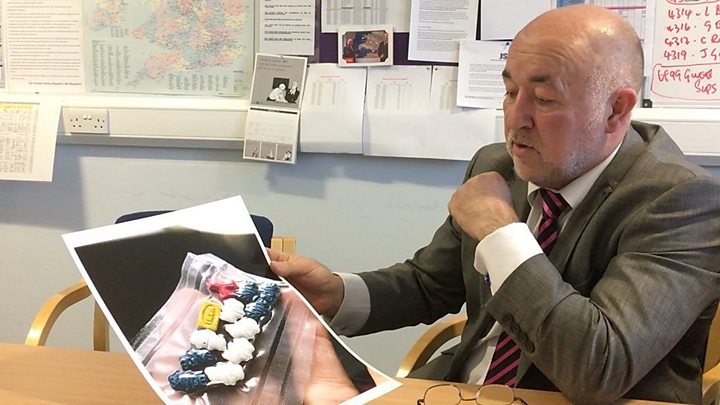 Officers found a cannabis factory at their home as well as one at a property rented out by them.
However, officers were still not at the top of the tree.
One picture message on McKay's phone had shown a hand holding different types of ecstasy pills for sale.
Detective Inspector Dean Taylor explained how the middle and bottom part of a couple of fingers were just about visible under the bag of tablets in the image.
"It was one of those moments, when we were looking at it and one of the officer's said 'there's part of a fingerprint there'," he said.
"We decided to give it a try. I'd never known it to be done before, but we asked the forensic unit to have a look at it.
"It just shows we are always learning and officers should be aware to use technology and look out for different pieces of potential evidence to stay ahead."
Staff at the scientific support unit were able to increase the size and improve the clarity of the image but a search of the national database did not bring a match.
However, when offenders give fingerprints, it is just the top part taken - with the middle and bottom part only occasionally left.
New sets were taken from Darren and Dominique Morris but the image was not of one of their hands.
In fact, it belonged to the man controlling the operation - their 28-year-old son Elliott.
He was traced to what DI Taylor described as a "rural log cabin hide-out" where another cannabis factory was discovered.
But significantly, a large amount of ecstasy tablets, with some similar to those in the photograph, were found there.
"We knew Elliott was handling drugs of a similar type but we didn't know who was holding the bags in the photograph," he added.
"He was linked by his fingerprint which also linked him to the messages and showed he was sending the supply.
"They were working together as a family unit but Elliott had become more involved and by the time of the arrests, he was controlling it."
The fingerprint identification provided solid evidence that helped convict Elliott Morris and ten others.
Police are investigating whether the chain went higher, while it was unclear how long the Morris family had been operating and how far around the UK they sold.
While a Proceeds of Crime investigation is still establishing the true extent of the gains, cannabis, ecstasy and cocaine worth £36,000 and about £21,000 in cash was seized.
In another first for South Wales Police, officers were also able to prove £20,000 in the online currency Bitcoin was made from drugs.
One of the men arrested in south Wales was a DJ and officers believe the chain was set up after he met someone linked to the Morris family at an event.
"It [the dealing] had been ongoing on a street level and was having a substantial impact for the people of Bridgend," DI Taylor added.
"We were able to identify the main players having a leading role in this organised crime group. I'm very happy we disrupted and dismantled it.
"Cannabis affects everyone across the age range and causes misery for families. Any community would also feel unsettled by the number of people calling at this address."
Last month, Elliott Morris was jailed for eight and a half years after being found guilty of conspiring to supply cannabis and possessing MDMA (ecstasy) at Cardiff Crown Court.
His parents admitted their part in the conspiracy, with his father sentenced to 27 months and mother 12 months.
Six Bridgend men also admitted their part, with Thomas and McKay getting 27 months, Rouse nine months, Danial Jenkins, of Kenfig Hill eight months, Nathan Burgess, 26, of Pyle, nine months and Jonathan Scanlon, 27, of North Cornelly, 30 months.
Elliott Morris' girlfriend Rosaleen Abdel-Saleem, 25, of Worcestershire was found not guilty, but fined £350 for possessing ecstasy.
Chazino Suban, 28, of Birmingham, was also found not guilty of the conspiracy, but was fined £700 for possessing cannabis and cocaine.