Chepstow School teachers strike over leadership concerns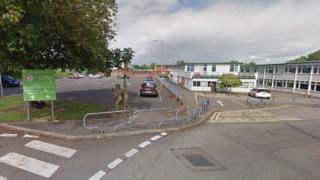 Teachers at a Monmouthshire school have gone on strike in protest at how it is managed.
NASUWT union members at Chepstow School claim "adverse management practices" are having a detrimental effect on working conditions and staff welfare.
One day strike action is set to start on 17 April with seven more days planned in May, June and July.
Chairman of governors, Craig Bridgeman, said they had been trying to resolve the matter since November.
Monmouthshire council urged the school and the union to "put the interests of the pupils first and to sort this out".
The school will open with a revised timetable for years 10, 11, 12 and 13.
In 2015, a group of former teachers called for an independent inquiry into its running, raising concerns about "management procedures".
Last year's Estyn inspection report highlighted four of the five key areas at Chepstow School "needed improvement", including improving pupil behaviour, teaching quality and "improving the quality, distribution and impact of leadership at all levels".
The school's management was asked to draw up an action plan to address the report's recommendations.
Tuesday's industrial action starts the day after pupils returned from their Easter break and further action is planned for 26 April, 9 and 24 May, 12 and 28 June and 11 and 17 July.
Rex Phillips, NASUWT national official for Wales, said members at the school felt "undervalued, unsupported and disenfranchised" from the decision-making processes within the school.
Mr Bridgeman said governors had not received any details about teachers' complaints but he hoped "worthwhile discussions may happen that will resolve this situation".
Councillor Richard John, Monmouthshire council's cabinet member for children and young people, said: "It is really concerning to have industrial action in any school at any time but particularly in a secondary school in the run-up to examinations."