Secret sex abuse diary convicts catering boss Deborah Evans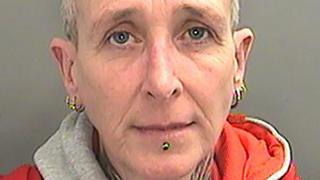 A woman used a secret diary of abuse suffered at the hands of her boss nearly 20 years ago to help convict her, a court has heard.
The victim, a teenager at the time, "looked up to" catering firm chief Deborah Evans, 44, who took advantage of the young employee.
Cardiff Crown Court heard the teenager kept a folder of unsent letters which made reference to the abuse.
Evans, of Ely, Cardiff, was jailed for seven years for indecent assault.
Prosecutor Michael Hammet said Evans, who runs Cardiff Catering Cuisine, was 27 when she began making advances to the girl, aged 15 at the time.
He told the jury: "These incidents were not done willingly. The victim would ask that Evans not do these things to her but she didn't listen. She felt as though she was under Evan's control.
"Whether she allowed these things to happen, didn't put up much of a fight, doesn't matter.
"She hadn't reached the age of 16 and the age of consent. She was not capable of consenting or agreeing to these things happening."
'Didn't want to kiss her'
The woman, now in her 30s, told the jury she had initially liked Evans' "rebellious side" and they had got on well but did not want to respond when her boss started making advances.
"I said I didn't want to kiss her. She had never said anything like that before or suggested she was interested in me in that way," she said.
She added Evans would "belittle her in front of friends" and force her to perform sex acts at her home over five months.
In a victim impact statement, the woman said her life had "spiralled beyond control" after the abuse.
The statement said: "She'll never be able to explain the effects of the abuse."
Evans was also ordered to register as a sex offender indefinitely.
Judge Michael Fitton QC said: "The victim was groomed and managed to satisfy your own desires.
"There was overwhelming evidence that the harm she suffered was severe."