Cardiff homeless helped with contactless donations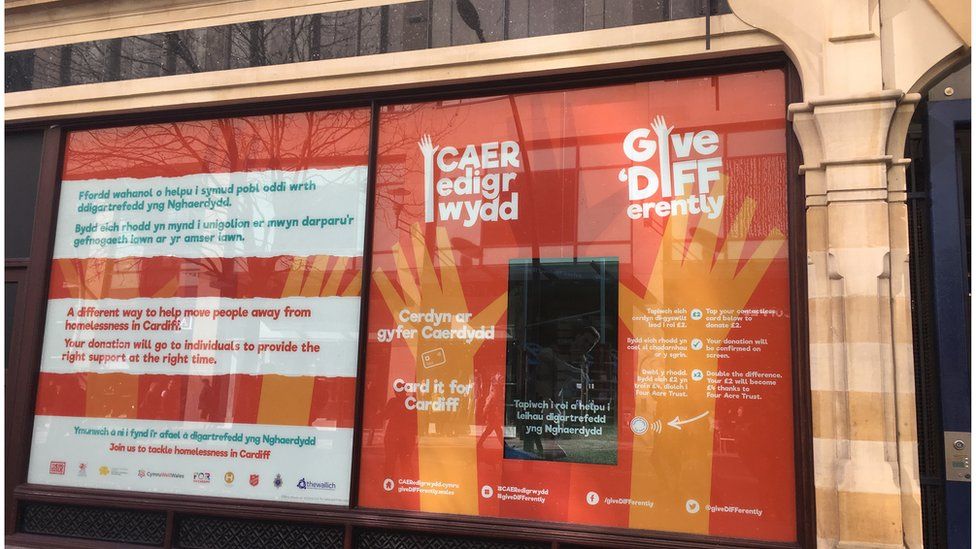 People will be able to donate money to help homeless people by making contactless payments while walking through Cardiff city centre.
An interactive screen has been installed in The Hayes to allow passers-by to donate £2 with their debit or credit cards at any time.
Money raised will be used for grants that will be given to organisations working with homeless people.
Cardiff councillor Lynda Thorne said it could "end the cycle of homelessness".
The donations from the Give DIFFerently campaign will be managed by the Communities Foundation in Wales, where voluntary and third sector organisations can apply for grants of between £250 and £750 to help support homeless people.
Ms Thorne, Cardiff council cabinet member for housing and communities, said: "The aim of Give DIFFerently is to end the cycle of homelessness and move people away from rough sleeping by providing meaningful support through small grants that will really make a difference to individuals".
Adrian Field, executive director at FOR Cardiff, a business organisation which has funded the donation point, said: "This is an alternative means of helping deal with the homelessness issue we have in Cardiff.
"We've brought partners together using contactless technology to encourage people to donate, and hopefully get homeless people off the streets for good".
Some 10% of what is raised is to be set aside for organisations working to prevent future generations from being homeless.
The installation is due to remain at The Hayes until 25 March 2018.