Demolition of Merthyr Tydfil homes moves a step closer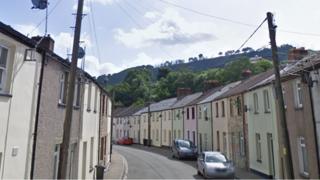 Plans to knock-down "unsafe" homes in Merthyr Tydfil have moved a step closer after councillors approved a forced sale plan.
Terraced houses in Taff Street and Crescent Street, Merthyr Vale, are at risk of flooding from the River Taff.
Merthyr Tydfil council voted to go ahead with compulsory purchase orders (CPO) for a number of properties.
It has also said it will cover moving costs for eligible residents.
Natural Resources Wales previously carried out work on the river. However, local authority officials decided it was still not enough to avert the long-term risk to life and property.
So far, 52 of the houses have been bought by the local authority. A further 54 are owned by Merthyr Tydfil Housing Association, while a further six have yet to be purchased.
At a full council meeting on Wednesday evening, it was revealed that £1.67m had been set aside for the scheme.
No dates for the CPOs, eviction notices or demolition have been given.
However, the council said it would offer compensation to residents including those who qualify for home loss payment and disturbance payments that will cover the financial costs of relocating.