South Wales Police issues fake detective fraud warning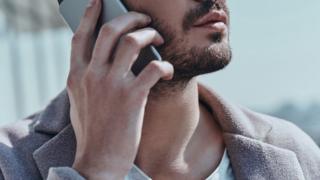 Police are warning people about a scam where fraudsters impersonate detectives to swindle cash from victims.
In the past fortnight there were eight cases in a two-day period in Cardiff and South Wales Police said it was "almost daily" in Vale of Glamorgan.
Fraudsters call people and say they have been a victim of fraud or tell them a family member has been arrested in order to obtain bank details.
Det Insp Paul Raikes said scammers were "extremely persuasive and convincing".
Police have not disclosed exactly how much victims have lost, but did say people had been duped out of "substantial amounts of money".
In some cases, victims are contacted by someone claiming to be a police officer to tell them their bank card has been cloned and are convinced to hand over bank details. Others are told someone in their family has been arrested.
Some have been instructed to go to a cash machine to withdraw money while others had a courier sent to their home to collect it.
Det Insp Paul Giess, from the economic crime unit, said: "While many of the victims in these cases have been elderly or vulnerable, I cannot stress enough how sophisticated and well-rehearsed these scammers are and any one of us could fall victim to their con if we are not vigilant."
Police have issued tips on how to avoid falling victim to this scam and have said officers would never ask people for such information.