Armed police raid homes in Cardiff's Penylan and Roath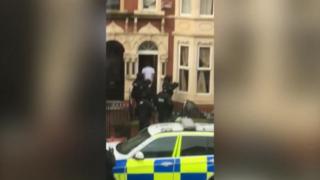 Armed police have carried out raids at two houses in Cardiff.
South Wales Police said officers attended properties in Kimberley Road, Penylan, and Claude Road, Roath.
It later emerged that the raids were in relation to an investigation into an attempted murder in February.
A 28-year-old man was arrested in the Kimberly Road property for an unconnected immigration matter, said the force. No one was arrested in Claude Road.
Phil Haynes, 55, who lives nearby, said: "It was about 07.30 and I heard shouting in the street.
"There were half a dozen armed police officers, shouting and pointing their guns at the windows and doors. Someone was shouting 'armed police, come out now' or words to that effect."
"Also, at the lane at the back of the property, there was half a dozen police officers or so, so it was at the front and back, it was thorough."