Cardiff's Bigmoose cafe to employ homeless as baristas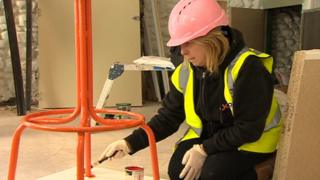 A cafe that will employ homeless people as baristas and plough profits into helping other rough sleepers is preparing to open in Cardiff.
Volunteers and tradesmen have gutted a former amusement arcade on Frederick Street and transformed it into the Bigmoose cafe.
The search for its first homeless trainee is under way, ahead of its opening on Thursday.
Former Cardiff Devils ice hockey player Jeff Smith came up with the idea.
He created the Bigmoose charity in memory of his friend and fellow Devils player Gary Cloonan - nicknamed Moose - who died of cancer in 2007.
"The last few years of running Bigmoose has been a great journey and I really want to continue doing fun stuff that inspires people to live better, healthier, kinder lives," he said.
Mr Smith and his daughter Chloe have been offering hot drinks to homeless people in the city for the past two years.
They also encourage restaurants to donate food, hairdressers to give free haircuts and people to donate warm clothing and bedding to rough sleepers.
Mr Smith said homeless charity Llamau has been helping them to find their first trainee.
"The plan is to open it, run it for a few months to find our feet and then we want to train one hand-picked homeless person in food and beverage," he said.
"After the training course they will come to the coffee shop and join the team earning a proper wage and being supported and mentored by us before moving on to whatever job they wish to aim for. Then the process will begin again with the next person."