Chepstow man killed himself and wife 'out of love'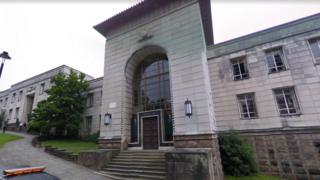 A man killed his wife and then himself out of "love and compassion" after she developed Parkinson's and dementia, an inquest has heard.
Linsey Sergeant, 71, took his wife Jane from her care home in Newport to their Monmouthshire house in October 2017, where he ended both of their lives.
The coroner ruled Mrs Sergeant, 70, was unlawfully killed by smothering and Mr Sergeant died from hanging.
Newport Coroner's Court heard Mr Sergeant was a "devoted husband".
The Senior Coroner for Gwent, Wendy James, said Mrs Sergeant had become ill with Parkinson's and was admitted to the Bryn Ivor Lodge care home in 2016 after her dementia had deteriorated.
She had been suffering from "night tremors" and Mr Sargeant, a former teacher at Caldicot comprehensive school, had found it difficult to care for her as he had been suffering from colitis for 15 years.
With his wife's health deteriorating and money to pay for her care running out, Mr Sergeant took his wife on a "day trip" from the Bryn Ivor Lodge but took her to the family home in Pwllmeyric, near Chepstow and killed her and then himself.
He often spent six hours a day with her and his care was described by his son as a "full-time job".
The inquest was read a statement from their son, Mark Sergeant, who described his father as a "very proud and private man who would suffer in silence".
Mr and Mrs Sergeant met as teenagers when studying to be teachers at Bristol University.
The coroner said it was with "regret" she had to conclude Mrs Sergeant had been unlawfully killed and Mr Sergeant had died as a result of suicide.