Cardiff Parkrun celebrates 10th anniversary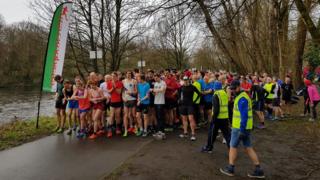 Cardiff's Parkrun is marking its 10th anniversary.
The weekly 5km (3.1-mile) Saturday run along the Taff Trail was founded by Phil Cook who spotted a "gap in the market for events in the area".
The free event, organised by volunteers, usually attracts up to 800 runners but about 1,000 runners took part in Saturday's anniversary run.
Parkrun has become a global phenomenon with events each Saturday and Sunday in countries around the world.
Mr Cook said he had seen "massive changes" to the event over the past decade, adding: "Fifty-six people came to the first one and we expect to hit four figures today.
"We have a range of runners with the quick ones up front but you see people who have changed their lives. Some people haven't run since school or have never even run come along and have found their new lease, it's the health kick and it helps them."
Angela Weeks, 72, completed her 200th park run last week. She said: "It's the camaraderie and the support and encouragement is amazing.
"Whether you run 16 minutes or 60 you'll have lots of encouragement and support."
Martin Berkeley, a runner who sometimes marshals the event, said: "I really enjoy the event in itself.
"It's helped me become very fit and also lose a lot of weight, it's good fun."