Newport kiln pottery 'reveals life in medieval Wales'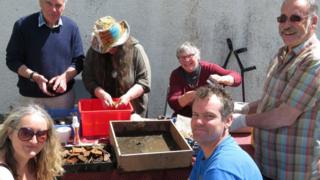 Pottery which was discovered at a site in Pembrokeshire has helped to reveal what life was like in medieval Wales.
Volunteers have helped to wash and sort the 10,000 pieces of pottery found at Newport's medieval pottery kiln.
It has revealed what type of pottery was made, and how people lived and worked during the 1400s.
Archaeologists said the kiln could have fired up to 1,200 pots making it a "significant sized pottery industry".
Work to conserve the kiln at Newport Memorial Hall was supported by the National Lottery Fund.
Jugs, pots, ridge tiles and curfews - a type of lid to put over a fire to keep it in overnight - were found.
An alembic was also unearthed - a piece of distilling equipment used for making alcohol such as an apple brandy or medicine.
Work to tell the story of the kiln is under way and the memorial hall volunteers plan on unveiling the site to the public in the summer.