Cardiff student's bid for compensation for lecturer strikes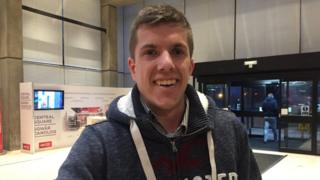 A student has launched a campaign calling for Cardiff University to compensate students for lost lessons as lecturers go on strike.
University lecturers across the UK are preparing to strike for 14 days over a row over pensions.
Cardiff student Samuel Veal fears students will be left without support for dissertations due to the walk out.
The University said it was doing everything to make sure there was a "minimum impact" on learning.
Aberystwyth, Bangor and Cardiff universities, along with the University of Wales, will take part in 14 days of strike, as will 57 other places around the UK.
The University and College Union (UCU) said the walkouts would start on 22 February and be spread over four weeks.
A petition, started by the 21-year-old history student, calling for Cardiff University to compensate students has been signed by about 1,500 people.
Mr Veal, who says he is in £27,000 worth of debt through tuition fees alone, agrees with the basis of the strikes but is worried students will be left without support with lectures and seminars cancelled.
He told BBC Radio Wales' Good Evening Wales programme it could lead to students not being taught everything they needed for exams later this year and they should be "academically compensated".
"Most of my studying takes place alone, so I can go to the library and read 10-15 books on a subject, but the point of a lecture or a seminar is to consolidate people's learning," he said.
"We talk to each other, engage with each other's ideas and identify places of weakness, I don't think it's as simple as saying 'you can do the reading', yes you can but you might not have understood it properly and that's what the issue is."
Cardiff University said "no basis for a refund" to students would arise due to the strikes, adding it was doing everything possible to "ensure there is minimal impact on teaching and learning".
A spokesman said: "The vice-chancellor has exercised the authority he has under Senate regulations that allow him to permit changes to teaching and assessment arrangements where exceptional circumstances disrupt the activities of the University.
"Schools are being supported to identify where they may need to vary teaching and assessment activities in order to ensure that students have an opportunity to achieve the learning outcomes of their modules and programmes. This may include rescheduling of teaching sessions, alternative delivery of teaching activity without rescheduling, and alternative means of assessment and in providing assessment feedback."