Bridgend road campaigner 'attacked by love rival'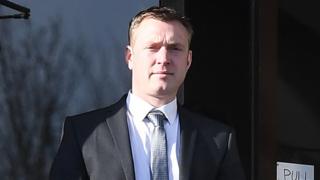 A road safety campaigner accused of running over his wife's new partner told a court the man attacked his car "in a blind rage".
Ian Spiller, 36, of Bridgend, denies purposefully hitting Karl Davies, 40, with his Audi as he walked with his estranged wife in February 2017.
He told Newport Crown Court Mr Davies punched his car after he confronted him while he was out with his wife Vicky.
He said his window and wing mirror were damaged in the attack.
The jury heard Mr Spiller's sister-in-law Holly Crawford was in the passenger seat when Mr Davies sprinted at the car.
Mr Spiller, who started a road safety campaign after a 16-year-old schoolboy was killed near his home village, said: "Holly opened her door and with that Karl came around to her side of the car.
"He slammed the door back on her - I don't know whether he kicked it or punched it but the door went back on her.
"There were just punches going everywhere. I turned the car back into reverse - he followed, he was in a blind, blind rage."
He said Mr Davies followed the car and attacked Miss Crawford.
He told the court: "He started punching the passenger window - he punched that window three times before it broke.
"His hand went in the car and he had hold of Holly's hair and had hold of her throat. She was screaming hysterically."
He said he reversed the car to get Mr Davies off it because it was his only option.
Mr Davies was left with a fractured skull and had to be treated in hospital.
The court heard the couple had been married for 10 years before Mr Spiller began to suspect his wife and Mr Davies were having an affair.
He told the jury how the pair would meet up to go running and became "uncomfortably friendly".
Mr Spiller, a Liberal Democrat councillor on Laleston Community Council, denies dangerous driving and causing serious injury by dangerous driving.
The trial continues.