Book-burning Pontypridd librarian jailed for thefts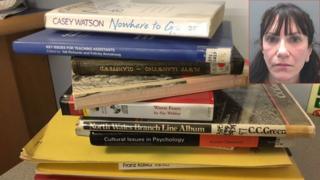 A librarian stole books from her workplace - including one on the Aberfan disaster - and tried to sell them online for up to £400.
Elizabeth Macregor, 57, burned several books in a bid to escape justice.
Macregor, of Hirwaun, stole hundreds of books from Pontypridd Library in Rhondda Cynon Taff.
She was jailed for eight months at Merthyr Tydfil Crown Court after being found guilty of two counts of theft and perverting the course of justice.
Her employers noticed books had started to go missing and Macregor was suspected of being the culprit.
A police investigation found some of the missing titles on sale on her eBay account, including the book Aberfan - A Disaster and its Aftermath by Joan Miller which she tried to sell for £400.
When officers searched her home, several hundred books were recovered - some were fire damaged after Macregor had tried to burn them and others were found in her green recycling bin.
She claimed to have bought them from various libraries which had sold them as excess stock.
Judge Richard Twomlow said Macregor told the jury "a catalogue of ridiculous lies" during her trial.
Kathryn Lane, defending, described Macregor as a "lonely individual" who had suffered from a number of mental and physical health problems.
Since being sacked by the library service, Macregor had found a new job at Public Health Wales, she said.
Sentencing her, Judge Twomlow said she had stolen from her employer in a "calculating and careful way".
He described the book on Aberfan as "more valuable in historic and cultural terms than financial".
The judge said the book was "mercifully" relatively undamaged and had been restored.
Macregor was given six months in prison for each of the thefts - to be served concurrently - and two months for perverting the course of justice, which will be served consecutively.
Richard Killick, senior prosecutor at the Crown Prosecution Service, said: "Any matter involving a breach of trust is very serious.
"In this case, however, it was twofold in that Macregor breached the trust of her employer and that of the community she served."