South Wales Police precept rise to protect vulnerable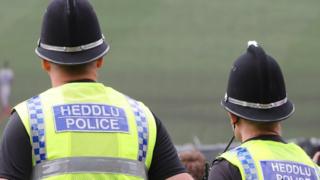 The charge for South Wales Police is set to increase by 7% so officers can better protect vulnerable people.
The rise in the precept - included in council tax bills - will also help maintain neighbourhood policing and "a series of major challenges", the force says.
The rise was agreed on Tuesday by the South Wales Police and Crime Panel.
It amounts to an increase of £15.45 a year for someone living in a Band D property.
Police and Crime Commissioner Alun Michael said: "The increase is essential to help maintain the service, while allowing us to protect vulnerable people and continue to invest in the future of policing in South Wales.
"Even with this new level of precept we will have to make savings - that is cut spending - by £3.5m in the coming year while tackling significant growth in demand and preventing crime through early intervention and prompt, positive action."
Mr Michael added: "We have made tough decisions year after year for a number of years in relation to how we deliver our services."