Road safety campaigner 'knocked down love rival'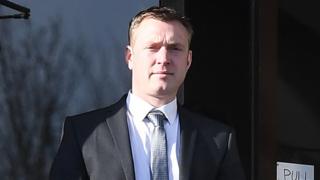 A road safety campaigner knocked down a man after finding out he was having an affair with his wife, Newport Crown Court has heard.
Ian Spiller, 36, of Bridgend, denies hitting Karl Davies, 39, in his Audi on purpose as he walked along a pavement with Mr Spiller's estranged wife.
He and wife Vicky, 35, had spilt up after 10 years of marriage but lived in the same house with their two children.
The court heard Mr Spiller accelerated to mount a kerb after seeing Mr Davies.
The court heard the community councillor had used an app to access all of his wife's texts - and track down their location.
Prosecutor Christopher Rees said Mr Spiller, who served as a Liberal Democrat councillor in his home village of Laleston near Bridgend, drove his Audi A5 at his victim after becoming jealous.
"Spiller deliberately mounted the pavement to drive at Mr Davies, the man he had just found out was having an affair with his wife," Mr Rees said.
Mr Davies was knocked unconscious and suffered a fractured skull, the court was told.
Mr Spiller, who started a road safety campaign after a 16-year-old schoolboy was killed near his home village, told police he did not deliberately target Mr Davies.
He said he was forced to swerve to avoid him on 11 February, 2016.
Mr Spiller, whose sister-in-law Holly Crawford was a passenger, says Mr Davies grabbed her by the throat and he revved the car to get away from him.
"Mrs Spiller's account is that the car hit and pushed him into some bushes a couple of feet behind him," said Mr Rees.
Mr Spiller denies dangerous driving and causing serious injury by dangerous driving.
The trial continues.