Ebbw Vale woman, 92, in 12 hour wait for ambulance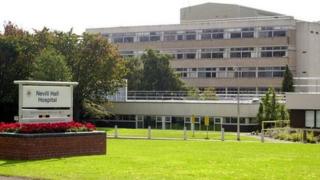 The family of a 92-year-old woman who waited more than 12 hours for an ambulance after suffering a fall, have received an apology.
Gwladys Jenkins fell at her home at Llys Glyncoed in Ebbw Vale, Blaenau Gwent, at 11:45 GMT on Friday.
Her son-in-law Phil Whitcombe said carers dialled 999 and were advised not to move her - but an ambulance did not arrive until 00:20 the next morning.
The Welsh Ambulance Service said it would welcome speaking to the family.
Mrs Jenkins is supported by carers at Llys Glyncoed, an "extracare" home for older people, who found her on the floor of her bathroom.
Mr Whitcombe said they were told not to move her until an ambulance arrived - yet it did not turn up until 12 hours and 35 minutes after the first phone call, despite the family and carers making repeated calls to 999.
'Horrendous'
"I got the impression because she wasn't bleeding or unconscious, it was a case of getting to her when they could, but 12 hours later was unbelievable," Mr Whitcombe said.
"It was horrendous. She's 92, frail and elderly. She was calling for people to help her.
"The crew were fantastic but they could not believe how long we had been waiting."
Mrs Jenkins was later taken to Nevill Hall Hospital in Abergavenny and has since been transferred to Ysbyty Aneurin Bevan, Ebbw Vale.
Mr Whitcombe said he will be issuing a formal complaint against the ambulance service.
Blaenau Gwent AM Alun Davies, who has been in touch with the family, said: "We need to find out what happened and what went wrong.
"I have contacted the health minister and I will be working with the family and the health board to resolve this issue and the reasons for the delay on this occasion."
Darren Panniers, the Welsh Ambulance Service's operations manager for the Aneurin Bevan health board area, said they were "very sorry" for the delay.
"Unfortunately January continues to be a challenging month for us, both in terms of the demand on our services and the significant level of handover delays our crews have encountered at hospital," he added.
"We recognise the distressing impact this can have on patients such as Mrs Jenkins, who waited longer than we'd like for an ambulance as a result, and clinicians in our contact centres were on hand to monitor her condition.
"However, this doesn't detract from what must have been a particularly difficult experience for Mrs Jenkins, and we'd welcome the opportunity to discuss what happened with her family."