Cwmbran bus driver helps talk woman down from bridge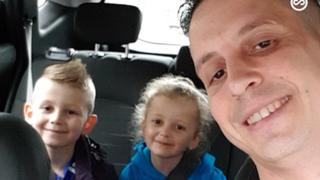 A distressed woman was talked down from a bridge by passers-by and a bus driver on his morning route.
Ian Lloyd, 33, was working at about 10:30 GMT on Friday when he parked his bus under the bridge in Cwmbran, Torfaen, to stop her jumping.
He then helped talk her down, along with other passers-by who stopped to assist.
His boss Chris Anslow, of Phil Anslow & Sons Coaches, said he was "immensely proud" of his driver's actions.
One motorist who was driving past with her father stopped at the scene - he began stopping traffic while she started talking to the woman on the bridge.
It was then Mr Lloyd arrived on the scene, parking his bus directly under the bridge.
"I can't remember what I said to her, it was really surreal. The whole thing was an instinct," he said.
"As I walked up to her she jolted as if she was going to jump and my instincts kicked in."
The bus only had one passenger on it at the time and Mr Lloyd said the customer called the coach company to tell them what he did.
Mr Anslow said: "Ian is a great young lad and brilliant with all our customers and we as employers are immensely proud of our driver's actions on the day."
Mr Lloyd said Gwent Police officers dealt with the woman after she got down from the bridge.
Details of organisations offering information and support with mental health are available at bbc.co.uk/actionline, or you can call for free, at any time to hear recorded information on 08000 564 756.