Two friends start bilingual Welsh theatre company Criw Brwd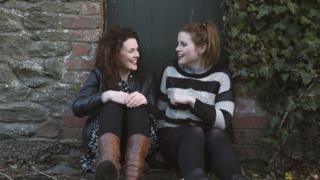 Two young actors have set up a new theatre company hoping to give "a voice to the unrepresented".
Criw Brwd (roughly translated as "Keen Crew") was started by friends Elin Phillips and Gwawr Loader.
They wanted to set up the bilingual company to give a platform to voices that are rarely heard in Welsh theatre.
"We're both from the south east, and I'd like to see that represented more on Welsh theatre stages," said Ms Phillips.
Ms Loader, who was brought up in Quaker's Yard near Merthyr Tydfil, said: "As people start working on pieces, they work on something that speaks specifically to them."
The company's first production will be a Welsh translation of the Chloe Moss drama 'Christmas is Miles Away'.
Originally set in Manchester, the pair decided to base their version in the Valleys, played by a cast of young actors, just starting out in their careers.
The company's first public performance was held on Sunday, to an audience including actors, scriptwriters and producers, and the pair was delighted by the response.
In the long term they hopes to write their own material, but at the moment are content to establish themselves.
"There's a huge call for original work," said Ms Loader, "and as a new company we maybe need to build a bit of confidence before we embark on creating our own stuff.
"In the future I think that's what we would want to do...but at the moment as a new company we're just starting to experiment."