Plans to relaunch Cardiff Seafood Shack in doubt after dispute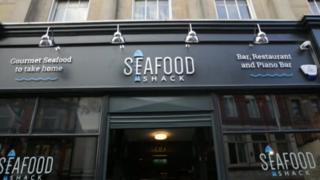 Plans to relaunch a restaurant accused of trading while insolvent have been thrown into doubt following a dispute between the proprietors and landlord.
Seafood Shack, on Cardiff's High Street, went into liquidation earlier this month with debts of more than £750,000, BBC Wales understands.
The business closed in December blaming a "malicious internal" cyber attack and the loss of its alcohol licence.
Majority shareholder Darryl Kavanagh has denied trading while insolvent.
Mr Kavanagh, formerly bankrupt with several failed companies and a restriction on holding directorships in Ireland, said he felt the company could have dealt with creditors and traded its way out of debt.
The restaurant opened in June 2017 and BBC Wales has established that it consulted insolvency practitioners as early as October.
It was announced on social media earlier this week that the Seafood Shack would reopen under new management.
A notice in the window of the restaurant invited people to apply for jobs there and the restaurant's Facebook page is inviting bookings via its online system once again.
The announcement of the reopening coincided with a meeting of creditors of the company, who BBC Wales understands are owed about £800,000.
A former employee of the restaurant, who said they are owed several thousand pounds, described the plan to reopen as "absolutely outrageous, a sorry state of affairs and says a lot about the laws around businesses".
Darryl Kavanagh said he was not involved in reopening the restaurant.
"This happens… companies going into liquidation and people buy them and trade again," he said.
Mr Kavanagh reiterated that he was opposed to the company going into liquidation.
"I always wanted and stated to the other directors that I felt the company could have dealt with creditors and traded its way out of debt," he added.
A spokesman for Cardiff Council confirmed an application had been received to transfer the Seafood Shack's alcohol licence to another company, Muldoon's Bar and Restaurant Cardiff Limited.
The company, which was set up on 10 January, has a single director - Diana Ellis - who is the former health and safety advisor to the restaurant and a close associate of Darryl Kavanagh.
Muldoon's is the name of one of Mr Kavanagh's former businesses in Ireland.
BBC Wales understands that the landlord of the premises in High Street took action to secure them on Tuesday night in connection with a dispute over rent and insurance payments for the building.
It is believed Mr Kavanagh and Ms Ellis re-entered the building via Crane's music shop next-door on Wednesday morning, but were subsequently reported to police.
Photographs of a police van parked outside the restaurant were posted on social media.
South Wales Police said: "We were called there following reports of a possible intruder in the building.
"We determined it's a civil matter between tenant and landlord and have no further involvement."
Mr Kavanagh told BBC Wales he could not comment on the matter "due to litigation".
BBC Wales has invited Diana Ellis to comment and is awaiting a response.
A police investigation into the alleged cyber attack is ongoing.