Man's arson charge over Upper Dock Street, Newport fire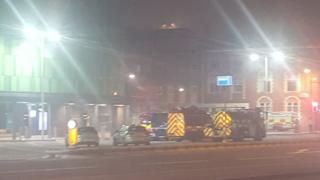 A man has been charged with arson and burglary following a large fire at a three-storey building in Newport city centre.
About 35 firefighters spent four hours tackling the blaze at the building, which contained a vape shop and offices on Upper Dock Street on 24 August 2017.
Roads were closed and neighbouring buildings were evacuated as a precaution.
The man, 23, is expected to appear at Newport Crown Court on 20 February.