Six Nations: Wales fans told to arrive early or face queues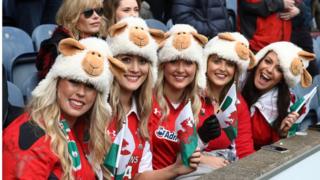 Rugby fans have been warned to arrive early for the Six Nations matches in Cardiff or face lengthy queues.
Strict security measures which came into force last April led to delays in entering the Principality Stadium in 2017's Autumn Internationals.
They will remain in place for the Six Nations, which starts next weekend.
"If you leave it to the last hour or 45 minutes, you are going to be in a significant queue," said stadium manager Mark Williams.
He warned that large bags and umbrellas would not be allowed in the stadium.
Fans with bags will face bag checks and may end up waiting up to four times longer.
Wales face Scotland on Saturday February 3, before further home games against Italy on 11 March and France on 17 March.
Crowds of rugby fans were still waiting outside of the Principality Stadium after Wales kicked off against Australia in November 2017 due to heightened security.
More than 70,000 fans attended the game, but many complained they queued for more than an hour to get in.
"You cannot get 75,000 people into this stadium in 90 minutes if you want that (high) security level," Williams added.
Inspector Philip Griffiths of South Wales Police stressed there was no specific threat to the stadium or any event in particular, saying: "We have sufficient plans in place to ensure we can deliver a safe event."
Several people have also spoken out about foul language, verbal abuse and drunken behaviour of some spectators during rugby matches.
Welsh Rugby Union bosses are also considering the introduction of an alcohol-free zone at the stadium from next autumn.
The Principality Stadium is surrounded by pubs and bars in the heart of Cardiff city centre.
Williams stressed there had been no significant increase in loutish behaviour in the last five years but said the stadium wanted to do all it could to prevent any abusive behaviour resulting from excessive drinking.