M4 Brynglas tunnel shut eastbound as part of upgrade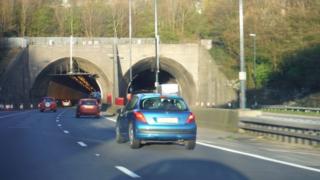 A stretch of the M4 motorway was closed eastbound at Newport from Saturday evening to Sunday morning as the Brynglas tunnels upgrade continues.
Football fans leaving Saturday's FA Cup tie between Newport County and Tottenham Hotspur at Rodney Parade were told to use the A48, south of Newport.
Eastbound traffic between junctions 28 and 24 was also diverted onto the Southern Distributor Road.
The tunnel reopened on Sunday at 10:00.
As part of an upgrade schedule, the eastbound tunnel is shut on weeknights.
This weekend's 15-hour closure, just after junction 26 at Malpas, was the first of five Saturday night/Sunday morning shutdowns.
The Welsh Government, which says the Brynglas tunnel refurbishments will finish in March, said the tunnels were built under old design standards and were no longer compliant.
The Usk River bridge and Malpas junction viaduct, either side of the tunnels, are also undergoing maintenance.
Scheduled Brynglas tunnels Saturday night/Sunday morning closures
Eastbound:
19:00 on 27 January - 10:00 on 28 January
19:00 on 24 February - 10:00 on 25 February
Westbound:
19:00 on 3 February - 10:00 on 4 February
19:00 on 10 February - 10:00 on 11 February
19:00 on 17 February - 10:00 on 18 February