Police donate to Beacons mountain rescue team after fire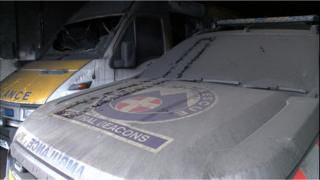 Emergency services have pitched in to help a mountain rescue team after its base was destroyed in a fire.
Almost £500,000 worth of equipment was damaged in November 2017 at the Central Beacons Mountain Rescue headquarters in Dowlais, near Merthyr Tydfil.
In addition to donations from the public, South Wales Police has donated a 4x4 vehicle.
The team has also been allowed to operate out of a room at Merthyr Tydfil's fire station.
Deputy team leader Huw Jones said crew members had been "overwhelmed" by donations, which now total £50,000, but there was still a "long way ahead".
Mr Jones said the team had lost all three of its 4x4s in the fire and repair work on the building had been delayed while the cars were removed and a building survey took place to check for asbestos.
"The clean out and refurbishment will start in a couple of weeks," he said.
"There is still quite a lot left to do once the vehicles are out and it is going to take some time.
"Once the vehicles are out it's a case of sorting and delivering vehicles and arranging the conversions. We're making progress in the right direction.
"We continue to remain really grateful for all the support we have been getting."
The team has had to rely on loans and use their own cars to carry on their voluntary work.
The Longtown Mountain Rescue Team, based in Abergavenny, Monmouthshire, has offered the use of an old control vehicle when a new one is delivered to them.
South Wales Police has offered the use of a decommissioned Mitsubishi L200, which had been previously been used to deploy police dogs.
The team has responded to five calls since 1 January, but said the lack of specialist equipment had made it difficult.
"We have been able to operate in a different way to how we would want to, but we have been able to respond," said Mr Jones.