Cardiff Airport 'expects to break even in 12 months'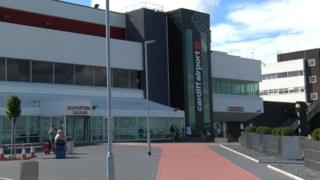 Cardiff Airport expects to "break even" in the next 12 months for the first time since 2012 and forecasts it will make a "profit" the following year.
Passenger numbers increased 9% to 1.5m in 2017, although this has still not reached the 2007 high of around 2m.
The airport estimates its valuation will go up by 10-15% next year if it hits profit expectations.
A return to profit would mean it would begin to pay back multimillion-pound loans from the Welsh Government.
The airport received a £10m loan to improve its terminal in 2013 and the Welsh Government also agreed a further £13m loan for route development.
The airport's profit forecasts are based on earnings before interest, taxes, depreciation and amortisation (EBITDA). This measure is used for airport valuations and is the performance measure specified in the Welsh Government loan.
Under the EBITDA measurement for 2016-2017, the loss was £896,000, an improvement on the £980,000 loss the previous year.
However, the pre-tax loss for 2016-2017 was £5.97m, an increase on the £4.9m pre-tax loss the previous year.
There's been a 50% growth in passenger numbers since the Welsh Government bought the airport in 2013 for £52m.
Thirty per cent of passengers in 2017 were visitors to Wales. That included 21,000 Juventus and Real Madrid fans who came to Cardiff for the UEFA Champions League final last summer.
Deb Barber, chief executive of Cardiff Airport, said: "2017's growth has been achieved by announcing new or increased flights to popular destinations including Madrid with Iberia Express and Guernsey with Blue Islands - both new airlines."
She said the forecast for a return to profit is based on current routes, existing routes expanding, and the opening of new routes including the Qatar Airways link which launches in May.
"The Qatar Airways service...will connect Wales and the south west of England to key global markets across Australia, Africa and Asia via the hub at Hamad International Airport in Doha, Qatar."
She said the Qatar service is set to transport 10 tonnes of freight a day which will be carried on to China, India, Asia and Africa.
Chairman Roger Lewis said the UK government is going to launch a review into air passenger duty (APD). The Welsh Government want the UK government to go further and devolve the tax for long-haul flights.
The UK Treasury said it is committed to reviewing any new evidence from stakeholders on APD. It said it had received the Welsh Government's report and would respond in due course along with the Wales Office.