Kayak instructor Adam Vaughan missing in Ecuador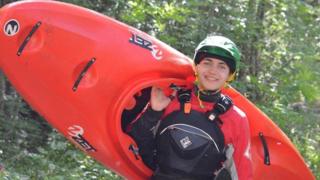 A kayak instructor from Cardiff is missing following flash floods in Ecuador.
Saturday's incident on the Abanico River led to two Irishmen dying while Adam Vaughan, 22, has not been found.
Two others - an American and Ecuadorian - who made up the group, were rescued.
Mr Vaughan, a former Cardiff University Spanish student and instructor at Cardiff's white water rafting centre was described as an "inspirational teacher" by the students' union.
A spokeswoman said he "embodied the spirit of adventure" and "made a long-lasting positive impact" as vice-president of the university kayak club.
Originally from Newbury, Berkshire, Mr Vaughan has written blogs about his love of kayaking, having paddled since the age of 11, around the world.
The bodies of Irishmen David Higgins, 26, from Kerry, and Alex McGourty, 19, from Sligo, have been recovered following the incident.
In a blog put together in 2017 while a fourth year student, Mr Vaughan described how he spent his third year in Colombia and had also paddled in Austria, Spain and Italy.
"No matter where I've been travelling or kayaking, it's the good times with the local people that stick with me," he said.
"This summer I spent a few weeks exploring the mountains of Bosnia and Montenegro.
"The sense of adventure you get from solo hiking through forests littered with landmines, bears and wolves is one that I would be keen to experience again with like-minded people."
A Foreign and Commonwealth Office spokesman said: "We are assisting the family of a British man who has been reported missing in Ecuador, and are in contact with the Ecuadorian authorities."