Rhondda Cynon Taff to introduce £100 fine for not recycling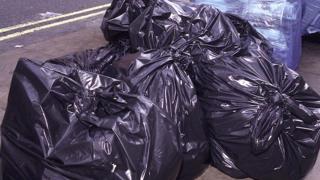 People could be fined £100 if they fail to recycle properly under new plans to cut waste in Rhondda Cynon Taff.
A council report said some residents were still refusing to recycle, with 35,000 tonnes of rubbish sent to landfill or for incineration last year.
At a meeting on Thursday, the council's cabinet voted in favour of increasing fines for those who fail to follow recycling rules.
Leader Andrew Morgan said: "This would be a last resort for the council."
Under the new plans, people who have black bags instead of bins could be restricted to putting out two instead of four, every two weeks.
Others will not be allowed to dispose of anything that does not fit in their bin.
The decision to cut black bags from four to two will go to scrutiny committee, with the deciding vote on 16 February.
Mr Morgan said: "While that performance is above the Welsh Government's current statutory target of 58%, further improvements must be made if the council is to hit the new upcoming 70% target to avoid significant fines in the coming years."
The council, which recycled 64% of its waste in 2016-17, pointed out other councils had already moved to three or four-weekly bin collections.
They include Conwy council, which became the first in Wales to opt for residual waste pick-ups once a month.
The council said the rules would be relaxed over Christmas to allow collections of four bags in Rhondda and one bag of "side waste" in addition to bins in the former Cynon and Taf areas.
Meanwhile, people in the county caught littering, fly-tipping or vandalising property with graffiti will be fined £100 after the cabinet also agreed an increase to "act as a further deterrent".
The changes are due to come into effect from 1 April.