Cardiff Queen Street: Demolition plan to build new bank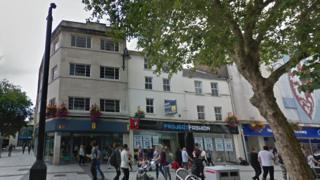 Buildings in the heart of a Cardiff shopping street could be demolished to make way for a seven-day opening bank.
Metro Bank wants to open its first Welsh branch - or store, as the company calls them - in the city's Queen Street.
It has applied to demolish buildings on the corner of Frederick Street. One is empty and another is occupied by a mobile phone store.
If approved, a new three-storey building would replace them.
The bank said in its submission to Cardiff council that the space and layout required for its purposes meant refurbishing the current buildings was not feasible.
Metro Bank stores usually open from 8am-8pm seven days a week and offer toilets and childcare facilities which are open to the public regardless of whether they are customers, and also provide biscuits and water for customers' dogs.
It would replace the EE phone shop and the former Project Fashion shop next to Boots.