No spitting fines in Cardiff four years after council ban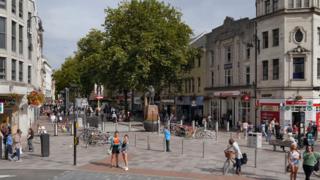 No fines have been issued to people for spitting in Cardiff, more than four years after the policy was introduced.
Cardiff council was the first in Wales to give enforcement officers the power to hand out on-the-spot fines.
The policy, which came into force in October 2013, meant they could fine people £80. But, so far, the policy has not been enforced.
The council said it was "very difficult to enact".
Michael Michael, cabinet member for clean streets, recycling and environment, told BBC's Welsh language website Cymru Fyw: "The frustration is that these things are very difficult to enact.
"Enforcement is about being there at the right time and witnessing the offence.
"I think it's good intentions but actually producing something is different.
"Spitting is a matter of manners really and it's disgraceful - it shouldn't be happening. But it's about having officers there to catch them at it.
"If I say to the officers 'increase the amount of spitting fines', they're going to say 'how?'"
Conservative councillor Adrian Robson, leader of the council's opposition party, said he was "amazed" no fines had been issued.
"This means that there is no deterrent to spitting. I thought we had a zero tolerance policy, not a zero enforcement policy," he said.
"If it is hard to catch people in the act, then enforcement agents should use other means to investigate - for example once a complaint is made they could review any nearby CCTV."