Matthew Williamson 'seriously injured' in New Zealand fall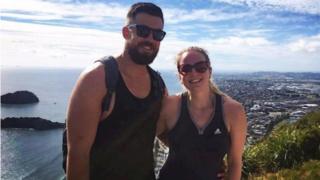 An abseiler has been seriously injured after falling four metres while working in New Zealand.
It is believed Matthew Williamson, 30, from Caldicot, Monmouthshire, damaged his spinal cord in the accident in Auckland on 28 November.
He has undergone surgery but there are fears he could be left paralysed.
More than 200 people have helped raise almost £8,000 in a bid to help Mr Williamson return home.
The former Caldicot Comprehensive pupil had been "living the Kiwi dream, working and exploring" with nurse girlfriend Justine Bennett, 26, according to a fundraising page.
He was employed as an industrial abseiler - which involves skilled rope technicians operating in hard-to-reach locations - when he hit his head on a hatch, was knocked unconscious and fell from a ladder.
His father Nigel flew out to see him and told the New Zealand Herald he is "devastated" by what happened.
"You want to be strong and you want to be positive in your outlook because there is no way those cards can be dealt again," he said to the newspaper.
"There is no what ifs, there is no blaming anybody, we have to learn to move forward and look for the benefits."
On a fundraising page, friend Andrew Page said: "It is with great sadness to succumb to the realisation, and say the words, that the fall has now left Matt paralysed from the chest down.
"Matt is currently in hospital recovering, and awaits the all clear to enter a rehabilitation programme for a further three months."
Mr Williamson is being treated at Middlemore Hospital in Auckland and faces weeks of recovery at their Spinal Rehabilitation Unit.
People from his hometown have shared messages of support while his close friends aim to put on fundraising events.