Central Beacons Mountain Rescue Team 'devastated' by fire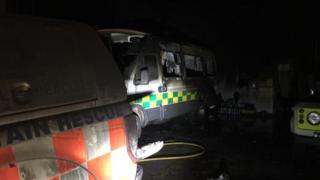 A mountain rescue team is "out of action for the short term" after a fire at its headquarters caused up to £500,000 worth of damage.
Fire crews were called to the blaze at Central Beacons Mountain Rescue Team's base in Dowlais, near Merthyr Tydfil, on Saturday night.
Its main rescue vehicle has been completely destroyed, while two 4x4s and most equipment was also damaged.
Deputy team leader Huw Jones said the team was "devastated" by the blaze.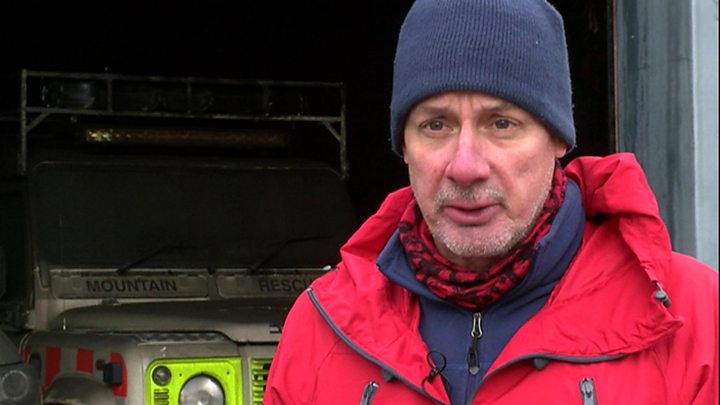 Central Beacons Mountain Rescue Team, a charity run by volunteers, covers the Brecon Beacons National Park and the surrounding areas in mid and south Wales.
Mr Jones said the fire appeared to have started in the rear right-hand corner of a building used to store vehicles and equipment.
He said all vehicles and equipment would be out of service until they could establish the extent of the damage, which could amount to about £500,000.
A separate building with a kitchen, training facilities and toilets was unaffected.
Mr Jones said the team, which has had its busiest year on record so far with 130 call-outs, would have to rethink what service it could provide with limited resources.
"The impact [of the fire] on how we operate is quite severe. We've already had offers from neighbouring rescue teams and we will certainly be calling on that," he said.
"We're totally devastated. The one good thing about being a volunteer service is people do it because they want to.
"I think everyone is particularly devastated and down by it but we will just have to look at what we need to do next and get back to full operation as quickly as we can."
He added: "We are very grateful to the neighbours who raised the alarm when smoke was seen coming out of the building."
Mr Jones said the service, which receives no funding and buys all equipment using money raised through donations, was insured, but would also launch a fundraising drive to help replace supplies.
Mid and West Fire Service said the cause of the blaze was thought to be accidental.