Welsh gold sold at Colwyn Bay auction for £44,000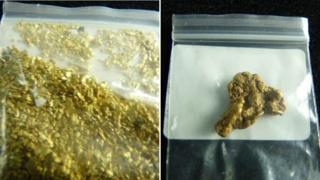 Nuggets and flakes of Welsh gold have been sold at auction for £44,000.
The 10 lots of Clogau gold, mined under government lease between 1979 and 1981, were expected to fetch about £9,000.
But after going under the hammer at Rogers Jones Co in Colwyn Bay, the lots went for £44,000 to one buyer.
Auctioneer David Rogers-Jones had been told by experts that Welsh gold was "visibly discernible" from other types and the "Clogau factor" could increase the selling amount.
"It's absolutely unique as far as we're concerned, we've never had raw Welsh gold like this before," said Mr Rogers-Jones.
The smallest nugget weighed 3g (0.1oz) had a guide price of £600-£700 but went for £4,000.
The 16.26g (0.5oz) of gold flakes and dust was expected to fetch between £1,600 and £2,000 but went for £10,500.
Welsh gold has been used in the wedding rings of members of the Royal Family since 1923 when the Queen Mother, then Lady Elizabeth Bowes-Lyon, married the Duke of York.
Other members of the royal family to have had Welsh gold in their wedding rings include the Queen and Prince Phillip, Prince Charles in both his marriages and the Duke and Duchess of Cambridge.
"We certainly haven't had Welsh gold in before and I've been auctioneering for 57 years," added Mr Rogers-Jones.
The precious metal was mined from Clogau St David's after a farmer in the area, Jack Williams, approached Kerry John Thackwell and his father Ray.
The pair came to Wales to mine in Gwynfydd after working in Western Australia.
Mr Williams told them he was the last miner to work in St David's in 1939 and could show the men where there were gold-bearing veins.
The men obtained a mining lease and extracted the gold over three years.
Ray Thackwell still has a small diamond claim in the north west of Western Australia which he still mines at the age of 85.